Rebecca & Ashley are true childhood sweethearts after both attending Castle Rushen High School for five years before ever speaking a word to each other until 2005. When they first became friends they realised how much they had in common and in the summer of 2006 they began dating, fell in love and as they say the rest is history!
Not wanting to be apart after finishing high school, they made the decision to go to university together and it was the best decision that they ever made.
7 years after they first started dating Ashley proposed whilst on holiday in Egypt. He planned every detail so carefully and it was absolutely perfect. The whole thing was like something out of a fairy tale - Rebecca didn't have a clue what was about to happen and of course she didn't hesitate to say yes!
After 9 very happy years together Rebecca & Ashley said "I do" in July 2015 and it truly was the happiest day of their lives. They each married their best friend and soul mate and are looking forward to many more adventure filled years together!
Their wedding ceremony was held at St. Catherine's Church in Port Erin, which has a special meaning for the couple as it was the same church that Rebecca's parents' marriage ceremony was held at in 1987. 
Their reception was held at the Villa Marina in Douglas. Rebecca explains why they chose that venue:
"We had never been to another wedding there before and were very conscious that we wanted our venue to be different and we loved the fact that we could choose our own caterers!
We had been to a few weddings at The Sefton and absolutely loved their food. Although we didn't want to hold our reception at that hotel it was fantastic that we could still use their chef for our wedding breakfast. We also loved the fact that there was outdoor space plus the room had lots of large windows which made the room very bright and airy. The lovely sea view was also a bonus!"
What was the inspiration for the theme of your day?
"I would describe our theme as classical romance. We changed the colour scheme so many times during the 2-year planning process so the theme evolved from our initial ideas, but all of the various aspects just came together beautifully in the end to create a very natural theme that was very us!"
Tell us about your wedding flowers!
"Our florist was fabulous and she did an amazing job in creating our flowers! I had described to her very vaguely what I envisaged and I very much gave her the freedom to create something unique for us based on the colours and types of flowers that I had in mind.
We absolutely loved what she created using roses, gypsophila and peonies in cream and pale pink with the added flash of fuchsia pink, along with various types of green foliage. I wanted the green foliage in order to tie in with the colour of the bridesmaids' dresses but overall I wanted a romantic, summery feel to the flowers, which was definitely achieved."
Tell us about any DIY or unique details that you created?
"Both of our mums are very creative and talented so we made the most of their talent by asking them to create our wedding stationery, which they did wonderfully while having lots of fun together!
My mum also made the fabulous wedding cake, while Ashley's mum created beautiful wedding signage and finishing touches.
I also handmade chocolate truffles for the wedding favours which were easy to make and went down a treat amongst the guests!"
What made you fall in love with your dress? Did you know straight away that it was 'The One'?
"I knew that my dress was 'The One' as soon as I caught a glimpse of it in the mirror when I was still half way through putting it on! I loved everything about it. I had tried quite a few dresses on by that point all of which were quite similar in style but this one really stood out for me, it was perfect.
Was it what you expected to buy?
I had quite an open mind when I went dress shopping. I didn't want to set my heart on a specific style only to discover that it didn't suit me or that I couldn't find what I was looking for. But in the back of my mind, I knew that I wanted something with lace and I also didn't want a strapless gown. Everyone agreed that the dress was very 'me' so yes; ultimately I suppose it was what I expected to buy even though I tried to be open-minded."
Tell us about your bridesmaid dresses
"We hadn't looked at many bridesmaids dresses before we found the dress that we all loved. I only had two bridesmaids so it wasn't difficult to find something that we all liked. I loved the pleated chiffon skirt and the ruched bodice. I knew that I wanted olive-green bridesmaids dresses and both of my bridesmaids suited the dresses beautifully."
What was the most romantic or emotional part of the day?
"I think the most emotional moment for both of us was the moment that I walked down the aisle. I hadn't prepared myself for that! Seeing everyone's faces as I walked down the aisle made me realise that all of our family and friends were all there together, in one place, to support us and share our special day with us. That really touched me! The speeches were also very emotional, although I had prepared myself for that!
The most romantic moment was probably when we were alone together in the wedding car, for the first time as husband and wife, with a glass of champagne of course!"
How did you feel before you walked down the aisle?
"I was so calm all morning whilst getting ready which was completely the opposite of how I expected to feel, but during the drive from my parents' house to the church, I began to feel really nervous about walking down the aisle. However, once I stepped into the porch of the church all of those nerves disappeared and I just felt so incredibly happy and excited."
What was your best wedding idea?
"Our best wedding idea was to have the day filmed. We now have a wonderful DVD to watch anytime we want to re-live our wedding day, it is so precious. There were so many details that I either hadn't noticed on the day or had forgotten about that were caught on camera by our videographer, which is so special. Our videographer was so unobtrusive and professional; I would highly recommend having your day recorded. It can be expensive but it will last forever and is worth every penny."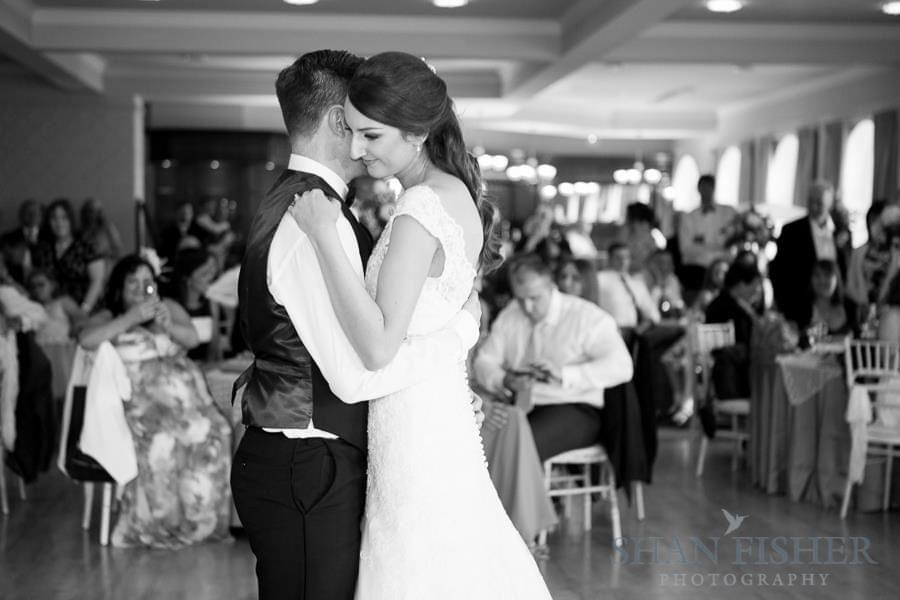 What's your top budget tip?
Always make sure you have a buffer and try to save more money that you think you will need as there is always something that you forget to budget for or something that you have under-budgeted for.
If you were doing it all again, what would you do differently?
"There are always going to be things about your day that don't quite go to plan or that don't quite turn out as you expected them to no matter how in control or organised you think you are. I think it's so important not to get hung up on the small details and to keep reminding yourself what the day is actually about. So although there was the odd thing that didn't quite go to plan I wouldn't change a thing or do anything differently if I was to do it all over again. For us, our wedding was perfect!"